#EnterNobleHour with Noble House Hotels & Resorts.
Discover a moment when the warm sun and soft, golden light transport you to a dreamlike state of peace and tranquility. Let go of the stresses of daily life and connect with the natural beauty that surrounds you. Capture the essence of this moment at any of our hotels or resorts and #EnterNobleHour for a chance to win a dream getaway at one of our experience-driven destinations across North America.
Follow us on Instagram and like us on Facebook.
After snapping your content while at one of our Noble House locations, upload it to your social media channels and use the hashtag #EnterNobleHour and tag @NobleHouseHotelsandResorts to be considered for the prize.
Please fill out the following information to join our list. Fields marked with an asterisk (*) are required.
Argonaut Hotel
SAN FRANCISCO, CA
Experience the ultimate San Francisco getaway at The Argonaut Hotel, where rich history and stunning bay views combine for an iconic stay. Start your day with a sunrise walk, taking in the breathtaking scenery of the San Francisco Bay, Alcatraz and the Golden Gate Bridge. In the evening, watch the sunset over the bay for a truly unforgettable experience.
Hotel Zoe Fisherman's Wharf
SAN FRANCISCO, CA
Whether you're an adventurer, a culinary aficionado or a business traveler seeking efficiency, Hotel Zoe offers modern guest rooms and access to some of the best amenities in San Francisco. Unwind in the inviting courtyard with a glass of wine as the sun sets or start your day with a sunrise walk along the waterfront.
River Terrace Inn
NAPA, CA
Enjoy the stunning Napa Valley sunset from the riverfront patio of River Terrace Inn. Indulge in the "Happy Golden Hour" menu, featuring specialty snacks and sips, as you unwind and soak in the breathtaking views. With its prime location in the heart of California's Wine Country, River Terrace Inn is the perfect place to relax and recharge while experiencing this magical time of day.
The Napa Valley Wine Train
NAPA, CA
Indulge in a captivating twilight dining affair aboard the Wine Train. Immerse yourself in an exquisite evening, where you'll be treated to awe-inspiring vistas and delectable fare while traversing the picturesque Napa Valley on an extraordinary expedition through the vineyards.
The Portofino Hotel & Marina
REDONDO BEACH, CA
Break out of your usual evening routine and join REI guides for a coastal kayaking tour from The Portofino Hotel & Marina in King Harbor during the best time of day to be on the water. The sandy shoreline opens to the Pacific Ocean with expansive views of the South Bay.
L'Auberge Del Mar
DEL MAR, CA
Discover the enchantment of L'Auberge Del Mar, a coastal sanctuary nestled in a captivating seaside village of Southern California. Here, you can experience magical photo-op moments as the sun rises and sets over the Pacific Ocean. While enjoying the breathtaking scenery, you can also sip on a menu of specialty sunset cocktails during their L'Oyster Raw Bar pop-up every Wednesday for happy hour.
Estancia La Jolla Hotel & Spa
LA JOLLA, CA
Estancia La Jolla Hotel & Spa, nestled between San Diego's seaside villages of La Jolla and Del Mar, is the ultimate place to unwind and soak in the breathtaking beauty of both sunset and sunrise. At their signature Mustangs & Burros Restaurant, you can indulge in a Tequila Sunset Cocktail crafted with Golden Anejo Tequila, guava, and edible gold glitter, available at 4:00pm daily.
San Diego Mission Bay Resort
SAN DIEGO, CA
San Diego Mission Bay Resort offers an idyllic setting for unwinding and soaking in the natural beauty of the iconic Mission Bay area. Here you can experience the true essence of Southern California, where the stunning surroundings and warm hospitality of the resort come together to create memories that will last a lifetime.
Kona Kai Resort & Spa
SAN DIEGO, CA
Discover the ultimate getaway at Kona Kai San Diego. Start your day with stunning marina views from your private balcony or while dining at the waterfront restaurant, Vessel. As the day winds down, immerse yourself in the captivating beauty of San Diego's sunsets from one of two waterfront pools or by the cozy firepits on the private beach.
Gateway Canyons Resort & Spa
GATEWAY, CO
Discover the breathtaking beauty of western Colorado's Palisades at Gateway Canyons Resort & Spa. Immerse yourself in the natural wonders and endless adventures that surround you to capture unforgettable moments that are beyond your wildest dreams.
Jekyll Island Club Resort
JEKYLL ISLAND, GA
Celebrate this magical time of day from the sunset veranda with a champagne toast every Friday and Saturday at 7:15 p.m. at Jekyll Island Club Resort. Or experience the "ringing of the bell" on the deck of The Wharf to kick off happy hour at the bar, a true sunset celebration.
Little Palm Island Resort & Spa
LITTLE TORCH KEY, FL
At Little Palm Island, the luxury experience extends beyond just the amenities and dining, it also includes breathtaking sunrises and sunsets that create the perfect ambiance for a romantic escape. Whether you're celebrating a special occasion or simply looking to escape the ordinary, this adults-only paradise is the perfect destination to create unforgettable memories.
Ocean Key Resort & Spa
KEY WEST, FL
Enjoy Key West with a sunset experience on a private balcony served by friendly in-room dining staff, curated by the culinary team. The experience includes a make-your-own mojito flight for two with a choice of strawberry, mango and coconut nectars with fruit served with a "90 miles from Cuba" charcuterie board featuring Cuban-inspired snacks.
Pelican Grand Beach Resort
FORT LAUDERDALE, FL
Experience a golden sunrise from the comfort of a private, oceanfront veranda table with an assortment of freshly baked pastries, fruits and an "early flight" of mimosas featuring a bottle of Nicholas Feuillette champagne with tropical nectars and garnishes curated each morning.
Solé Miami, A Noble House Resort
NORTH MIAMI, FL
With easy access to serene beaches and vibrant nightlife culture, Solé Miami is the ideal destination for a Florida getaway. As the sun sets or rises each day, guests can head to the beach and watch the warm hues paint the horizon over the Atlantic Ocean.
Inn on Fifth
NAPLES, FL
Toast the day away with sips of sparkling wine at a daily rooftop gathering celebrating the fabulous Naples sunset. Guests can also enjoy a complimentary "Tequila Sunset on 5th" cocktail and a 10% discount on select entrees at Ocean Prime Naples.
Marquesa Hotel
KEY WEST, FL
Nestled in the heart of Key West's historic district, the Marquesa Hotel offers a unique and private boutique hotel experience. With multiple sparkling pools and lush tropical gardens, guests can capture breathtaking moments that perfectly complement the elegant ambiance of the hotel.
LaPlaya Beach & Golf Resort
NAPLES, FL
Reunite with friends with a bachelor trip or family reunion to LaPlaya Beach & Golf Resort. Discover all that their upscale coastal village has to offer, or simply put around on the award-winning 18-hole golf course, your event, your speed.
The Stella Hotel
BRYAN-COLLEGE STATION, TX
The Stella Hotel in Bryan-College Station offers a fresh perspective on Central Texas travel. As the sun rises and falls each day, guests are invited into a world that honors local history and cherished traditions. From summer concerts on the lawn to seasonally inspired cuisine, everything here exudes the warmth and hospitality of Texas.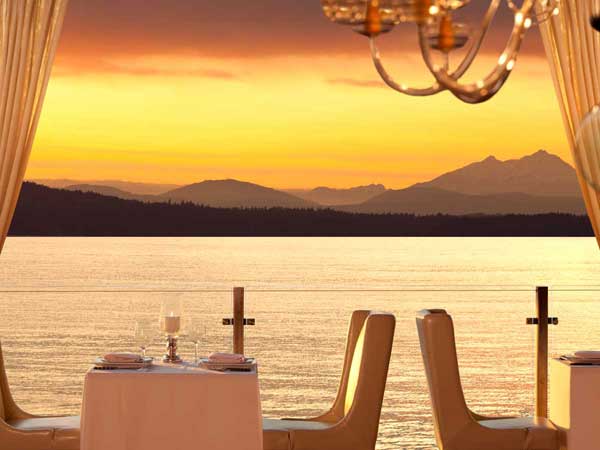 The Edgewater
SEATTLE, WA
Discover the natural beauty of the Pacific Northwest at The Edgewater hotel. Start your day with a sunrise waterfront bike ride, then head to The Brim Coffee Shop for a special turmeric latte to fuel your adventures. In the evening, savor a specialty sunset cocktail at the award-winning Six Seven Restaurant with stunning views of the sun sinking below the Olympic Mountains and Puget Sound.
Teton Mountain Lodge & Spa
TETON VILLAGE, WY
Newly transformed and ready to welcome guests back, Teton Mountain Lodge & Spa is an alpine retreat that blends rustic charm with modern amenities. The stunning location in the heart of Jackson Hole offers endless opportunities to explore the surrounding mountains, forests and streams during the day and soak in the picturesque scenery as the sun goes down.
Hotel Terra Jackson Hole
TETON VILLAGE, WY
Start the day with sunrise yoga at the hotel's outdoor infinity pool overlooking Teton Village or ride a hotel e-bike one mile to the entrance of Grand Teton National Park as the sunrise lights up the Tetons. The limited-time offer includes a goodie bag inspired by the Teton sunrise.
The Josie Hotel
ROSSLAND, BC, CANADA
At The Josie, experience the best of British Columbia's stunning landscapes during sunrise and sunset. Surrounded by breathtaking mountain views and endless outdoor adventures from golfing and fly fishing to mountain biking and hiking, The Josie is the perfect place to inspire and exhilarate your soul.
Corazón Cabo Resort & Spa
CABO SAN LUCAS, MEXICO
Enjoy the sounds of live jazz music while gazing out at views of Cabo's famous El Arco and enchanting city skyline as the sun sets upon Corazón Cabo's Rooftop 360 during "Jazz Spirit" from 5:00 p.m. to 7:00 p.m. on Mondays and Thursdays. As nothing is complete without a specialty cocktail, Mondays feature martinis and Thursdays feature the mixologist's latest creations.