Dining experiences that transform your travel.
"We create hotels and resorts with the complete customer experience in mind. Noble House properties provide a sense of escape from everyday life – for both our leisure and business guests. Our philosophy emphasizes location, distinction and soul at all our properties. In that spirit, we work hard to ensure that Noble House hotels, resorts, restaurants, and spas harmonize with the local culture and environment -and are unique destinations that cannot be duplicated. Often with the help of local artists and artisans, each restaurant is carefully designed to reflect the style and ambiance of its respective surroundings."
– Pat Colee, Chairman of the Board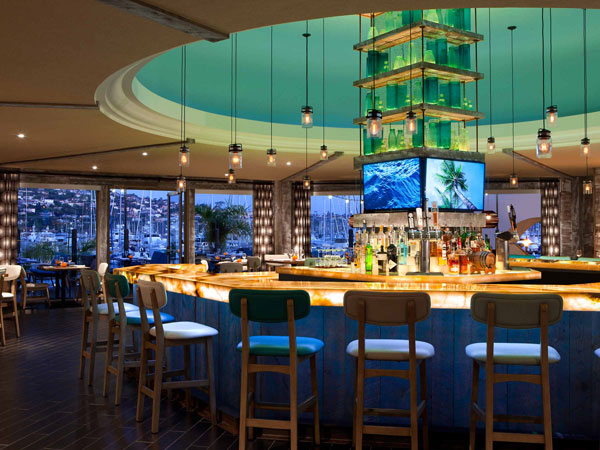 Vessel Restaurant
SAN DIEGO, CA
Experience regional coastal fare at our signature Vessel restaurant. Surrounded by sea glass, distressed beach wood, among a canopy of eclectic lighting, revel in the beauty of the natural landscape. Marina and regional views abound. Relax, unwind and sip a cocktail on our outdoor patio and relish the San Diego sun.
Hot Tin Roof
KEY WEST, FL
Hot Tin Roof features a relaxed elegance with dramatic water and sunset views. Its menu is highlighted with a mix of seafood and landfare prepared in a unique culinary style dubbed as "conch-fusion," a mélange of tastes and fragrances, combining traditional Florida foods with Latin, Caribbean and tropical influences.
BALEEN
NAPLES, FL
With chic cuisine, guests enjoy a Gulf Cost twist on traditional favorites while taking in spectacular views of the Gulf of Mexico. A whimsical monkey motif lends a lighthearted air to its candlelight elegance and beachfront dining.
BALEENkitchen
REDONDO BEACH, CA
Known for its waterfront dining, BALEENkitchen features New American appetizers and entrees, specializing in gourmet comfort food with a seafood focus. Its signature appetizer is its interactive hot Japanese saku stone. Complementing the restaurant is a chic lounge with a fireplace, marina views and hand crafted cocktails and signature appetizers.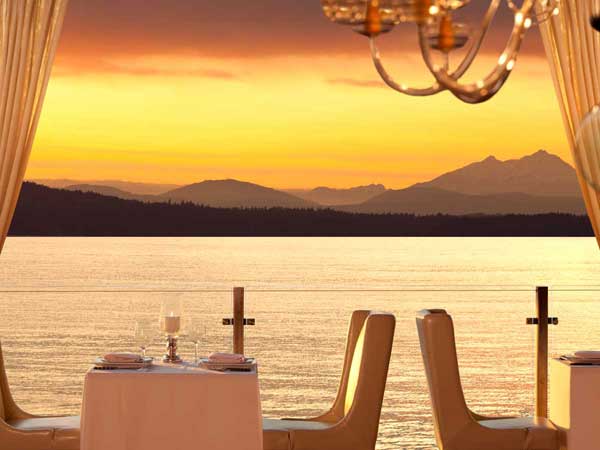 Six Seven Restaurant
SEATTLE, WA
The perfect venue to experience the best of the Northwest. Featuring panoramic views of Elliot Bay, Six Seven offers distinct seasonal cuisine with local ingredients and regional seafood. An extensive wine list inspired by the bounty of Washington wines complements the menu. Experience waterfront dining "on the Edge" for unforgettable views and extraordinary cuisine.
OCEAN2000
FORT LAUDERDALE, FL
Enjoyed by locals and resort guests, OCEAN2000 offers an array of culinary specialties under the skillful imagination of Chef Todd Lough. OCEAN2000 is featured as an American Bistro with cuisine ranging from seafood to steaks amidst magnificent panoramic views of the Atlantic Ocean from either the multi-tiered dining room or sweeping verandah. OCEAN2000 also features the only Sunday Oceanfront Brunch on Fort Lauderdale Beach.
Entrada Restaurant
GATEWAY, CO
For a taste of exceptional Colorado cuisine, Entrada Restaurant & Lounge, located in the state-of-the-art Palisade Event Center, serves delicious Colorado dishes and offers a discriminating wine selection to make your dining experience a culinary event. Besides the exceptional food, Entrada is known for dining al fresco – there isn't a more serene location than Entrada's outdoor patio.
Covewood
SAN DIEGO, CA
Pacific breezes and fire features create an intimate indoor/outdoor atmosphere for indulging in the local bounty at Covewood. Fresh seafood and wood-grilled vegetables are paired with local wines and food-friendly cocktails while tactile elements of leather and linen convey an understated luxury, translating our barefoot-chic ethos into an exceptional dining experience.
Spur Restaurant & Bar
TETON VILLAGE, WY
Spur welcomes you with enticing entrées and amazing appetizers that delight diners every season. From the vibrant atmosphere to the welcoming staff, Spur serves as your place to gather after another great day on the mountain with several local award-winning beers on draft, handcrafted signature cocktails, 6 large-screen HDTVs and a lively scene that locals voted Jackson Hole's Best Après.
Il Villaggio Osteria
TETON VILLAGE, WY
A delicious and beautiful dining spot, Fine Dining Restaurant Group's Il Villaggio Osteria's mouthwatering menu grounded in Italy's finest tastes and experiences only adds to the fun bar scene and scenic terrace dining and outdoor firepit. Osteria has a vast and carefully curated wine selection, a beautiful wood fired oven for pizza, and a salumni bar with delectable offerings.
Blue Mermaid Restaurant
SAN FRANCISCO, CA
San Francisco Dining's Best Catch: Blue Mermaid Chowder House & Bar At Fisherman's Wharf. Maybe you've heard the siren's call for superb seafood in San Francisco, but wondering where the best catch would be. Lucky you. It's right next door at the Blue Mermaid Chowder House & Bar. The setting here is an authentic, richly textured oceanfront ambiance accented with sea-faring touches like renderings of mermaids, rough-hewn timbers and thick braids of rope.
Napa Valley Wine Train
NAPA, CA
The Napa Valley Wine Train is one of the most distinctive Napa restaurants, offering an authentic, memorable experience that echoes the glory days of train travel, with fine dining service, multiple course meals, Napa Valley scenery and ultimate relaxation aboard exquisitely restored vintage rail cars. This top dining establishment is housed in a museum quality, antique train that runs on 25-­miles of track in the heart of the Napa Valley.
ALBA
NAPA, CA
Illuminate your senses as Napa debuts "high-country" cuisine at the all new ALBA restaurant. Open since June 2017 inside the River Terrace Inn, ALBA's award-winning Executive Chef pays homage to local foodways, devoting the menu to the fine combination of great mixology, good times, and superior cooking. The menu highlights shareable, seasonal small plates that pair well with wine and craft mixology, featuring local products and natural ingredients.
Pescatore Trattoria
SAN FRANCISCO, CA
Pescatore Trattoria, a unique restaurant experience in San Francisco. Now this is Italian! Discover delicious onsite dining at Pescatore, a classic trattoria featuring mouthwatering preparations of fresh seafood and Italian favorites. Nestled between North Beach and Fisherman's Wharf, this Italian sidewalk café offers a warm and friendly dining atmosphere for breakfast, lunch and dinner. 
BALEENkitchen
NORTH MIAMI, FL
A beloved Miami destination returns to Sunny Isles on August 8, 2018. Worth the decade-long wait, BALEENkitchen reintroduces itself to the city of Miami as the globally-inspired, locally-sourced dining outpost at Solé Miami, A Noble House Resort. BALEENkitchen at Solé Miami is the third iteration of the Noble House restaurant brand; a brand known for serving up eclectic menus within impactful interiors inspired by an international sense of adventure.
The Dining Room
FLORIDA KEYS, FL
The Dining Room at Little Palm Island tempts guests with a vibrant blend of French and Pan-Latin cuisine under the direction of chef Louis Pous. The ever-evolving menu samples the finest in fresh, local fare. Guests can enjoy meals in an elegant, candle-lit dining room, on a terrace perched above the beach where key deer and songbirds visit, or at tables strewn along the beach.
Velvet Restaurant & Lounge
ROSSLAND, BC, CANADA
Welcoming travelers to British Columbia who have a craving for soulful dining, locally foraged food drenched in inviting mountain views. Executive Chef Marc-Andre Choquette introduces subtle French influences in a warm inviting atmosphere. Warm your body and soul, while feasting among fellow adventurers, long-time and new-found friends. Dining at The Velvet is an experience in itself.
Campfire
BRYAN-COLLEGE STATION, TX
Embracing the best seasonal ingredients of Central Texas in a warm and inviting dining atmosphere, Campfire is a 'farm to fork' eatery featuring locally farmed beef, slow smoked proteins and sustainable local seafood. With a hidden element of health to the menu, fresh produce will not be overshadowed. All paired with crafted cocktails, local brews and a thoughtful wine list.
Coastline
DEL MAR, CA
Dine deck-side and revel in that beautiful San Diego climate. Swoon-worthy views and sustainably sourced seafood and meats, locally farmed produce, craft beers, signature cocktails, and an award-winning wine list. Enjoy daily breakfast, lunch, and dinner in a relaxed, casual atmosphere, and a weekend brunch that hits all the high notes. Share small plates among friends or enjoy a romantic dinner under the stars.